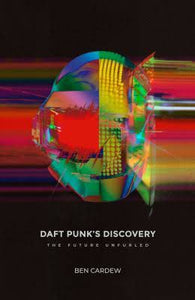 DAFT PUNK'S DISCOVERY by DAFT PUNK
Regular price
€17,50
€0,00
Unit price
per
Tax included.
Shipping
calculated at checkout.
Daft Punk's Discovery is a homage to a fascinating, troubled beast of an album that casts a huge shadow over the 21st Century. It's a global view of Discovery as a cultural phenomenon, placing the album at the centre of celebrity culture, fan clubs, video, the music business etc., while also examining its profound musical impact.
Daft Punk's Discovery is a record that looked into the future and liked what it saw; an album that predicted the electronic music explosion, YouTube and the end of privacy, while dragging soft rock back into vogue. Discovery was not only one of the best albums of the 2000s, it was one of the most prophetic, the kind of record that makes you wonder: how did they know?
You can draw lines from Discovery to Glass Swords, Kanye West, EDM, Autotune, iTunes, Beyoncé, Guilty Pleasures, social media and more. Discovery's footprints can be found all over the modern world but it also looked back to Daft Punk's childhood, to Van Halen records, Japanese cartoons and even Johann Sebastian Bach.
Discovery was a record that confounded many fans when it was released in 2001, thanks to its blatant pop hooks and unlikely sonic bricolage. It was a record that was – and still is – widely misunderstood; Discovery's impact has only become clear with the passing of time, as Daft Punk have been proved right time and time again.
Autor:  Ben Cardew
Artist
DAFT PUNK
Title
DAFT PUNK'S DISCOVERY
Label
VELOCITY PRESS
Catalog #
9781913231118
Tag
Release

W 41 - 2021

Format
Books & Magazines - UKBOOK

Import

ENGLISH
---