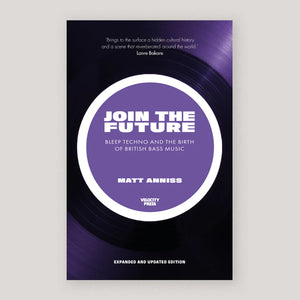 ( REVISED EDITION) JOIN THE FUTURE - BLEEP TECHNO AND THE BIRTH OF BRITISH BASS MUSIC by Matt Anniss
Regular price
€19,50
€0,00
Unit price
per
Tax included.
Shipping
calculated at checkout.
| | |
| --- | --- |
| Artist | MATT ANNISS |
| Title | ( REVISED EDITION) JOIN THE FUTURE - BLEEP TECHNO AND THE BIRTH OF BRITISH BASS MUSIC |
| Label | VELOCITY PRESS |
| Catalog # | 9781913231323 |
| Tag | |
| Release | W 08 - 2022 |
| Format | Books & Magazines - UKBOOK |
| | Import |
Updated edition 2023.

Three years after it was first published, Matt Anniss's critically acclaimed alternative history
of UK dance music in the acid house era is returning to stores in updated and expanded
form. Boasting even more interviews, sharpened analysis, strengthened arguments, an
updated recommended listening list and a whole new 'afterword' chapter, this is the definitive
revised edition of what author Matthew Collin called 'a significant addition to the canon of
dance music literature'.

Join The Future traces the roots, origins, development and legacy of bleep & bass
(sometimes known as 'bleep techno'), a highly influential but previously overlooked style of
UK dance music that emerged from Yorkshire and the Midlands from 1988 onwards. Mixing
social, cultural and oral history, Anniss puts forward a persuasive argument that it not only
inspired the development of more celebrated styles of British dance music, but should also
be considered the foundation of what many now call 'UK bass' (that collection of styles that
put heavy sub-bass to the fore).

Since the book's publication, it has become a 'must-read' for anyone interested in the
development of British dance music culture and received hugely positive feedback from
critics. In 2021, Rolling Stone UK cited it as one of the best non-fiction books on British
dance music culture, alongside music books that are considered genuinely key texts such as
Dan Hancox's Inner City Pressure and Jon Savage's England's Dreaming. Other critics have
highlighted the level of research behind the book.

Commenting on the new edition, Matt Anniss said: "Since the publication of Join The Future
in 2019, I've been blown away by the feedback from readers and delighted with the
reception from critics. When Velocity Press offered me the chance to update and expand the
book, I took the opportunity. It's still the same core book, just stronger and a little longer –
like the definitive extended 12" version of a much-loved bleep record."
 
Author Biography
Matt Anniss is a journalist and author specializing in electronic music, DJing and club culture. He began his career on internet magazines in the late 1990s before joining the staff of IDJ Magazine as Music Editor in 2000, later becoming Editor. Since leaving the magazine in 2008, he's become a regular contributor to Resident Advisor, Red Bull Music Academy Daily and DJ Magazine, specializing in historical aspects of dance music culture. As an author, Matt has written over 50 non-fiction books for children and young adults, including a number of "how-to" books on DJing, podcasting and music production. In 2017 he co authored The Vinyl Owners Manual (with Patrick Fuller) for iconic British brand Haynes Publishing, which became one of the brand's best-selling titles of 2018. He is an obsessive record collector and mix maker. He lives in Bristol, England.
---