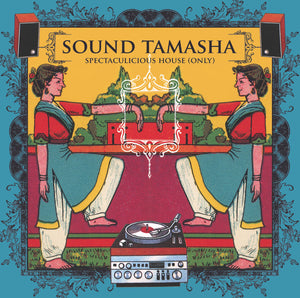 SOUND TAMASHA - SPECTACULICIOUS HOUSE (ONLY)
Regular price
€14,00
€0,00
Unit price
per
Tax included.
Shipping
calculated at checkout.
label: freizeitglauben
cat.No:FREIZEIT025
produkt: cd-compilation
stil: house
compiled by André GArdeja for CULTURE MUST and SOUND TAMASHA.

Namaskar and welcome to Sound Tamasha !

In this first compilation created by Sound Tamasha, freizeitglauben presents a small selection of the artists who collaborated in that project during the last two years. So, what is "Sound Tamasha"? The term "Tamasha" is the Hindustani word for "show" or "spectacle". Depending on the region of India, tamasha can be a combination of music, dance, theatre, and other performances - but all with one common factor: the audience is being integrated into the spectacle!
Unfortunately, over the years, traditional Tamasha has become a rarity in India. Under the guidance of Culture Must, the idea to reinvigorate the concept in a modern manifestation has forged a diverse group of international friends united by one mission: to feel the excitement and the spectacle of a Tamasha performance in its reincarnated form! Sound Tamasha initiates explorations in sounds and beyond, crossing diverse styles of music and unique cultural traditions. Wherever we travel, the variety, richness, and universality of music provides us a ready-made avenue through which we can deepen our understanding and enjoyment of a culture. Since music is not bound by any particular language, it makes a terrific way to connect with someone whom you otherwise might not even have met....

01. 22ROCKETS - Umma w&c Stephan Matschke, produced by Marcus Rose
02. André Gardeja - Indigo Summer w&p André Gardeja
03. Hamza - Tribal Sensitivity w&p Hamza Rahimtula
04. Sedat Altinok - Nightstar w&p Sedat Altinok for
05. B.L.O.T. - Furchen w&p Gaurav Malaker
06. SiD - Gerda's Roadtrip w&p Sebastian Dauter and Ronald Christoph
07. Vipul Angirish - Fever Drop w&p Vipul Angirish
08. B.I.S.C.A.T.E. - Fun Farra w&p Andre Wakko, Tiago Oudmann and Ricardo Ferreira
09. Markus Schatz - Spacefood w&p Markus Schatz and Khayum Kimaz
www.freizeitglauben.com
CONDITION: NEW sealed!
---